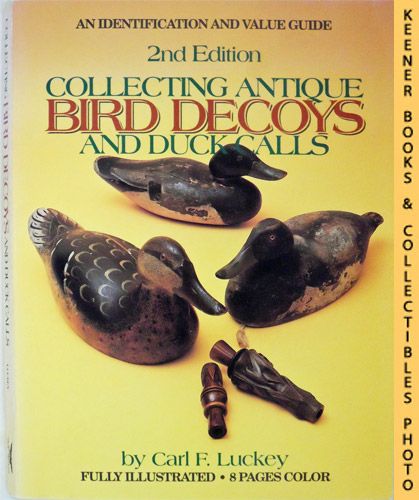 Author Name Luckey, Carl F.
Title Collecting Antique Bird Decoys And Duck Calls : An Identification And Value Guide
Binding Hard Cover
Book Condition Very Good
Edition Second Edition: First Printing
Size 8.5 x 11 in.: 232 pages
Publisher Florence, Alabama Books Americana 1992
ISBN Number 0896890783 / 9780896890787
Store ID 010910
010910: Covers and pages are clean, unmarked, bright, tightly bound and sharp cornered (except for light crease at top corner of front cover). Scarce, Out Of Print, Book. "There are many ways to approach the idea of collecting decoys. There are dozens and dozens of known carvers and factories. There are, of course, also dozens of species of birds represented, as well as many different hunting areas and major flyways. With this in mind the collector may choose to specialize in one of the areas. For instance, you might wish to concentrate on decoys that are indigenous to the area you live in, a particular species of bird, factory made decoys, etc. When using the value ranges in this book it is incumbent upon the collector to bear in mind several factors, not the least of which is aptly put by a noted collector of old fishing lures, Clyde Harbin, 'The Bass Man': 'Nothin' aint' worth nothin', til somebody wants it.'"
Price = 49.00 USD