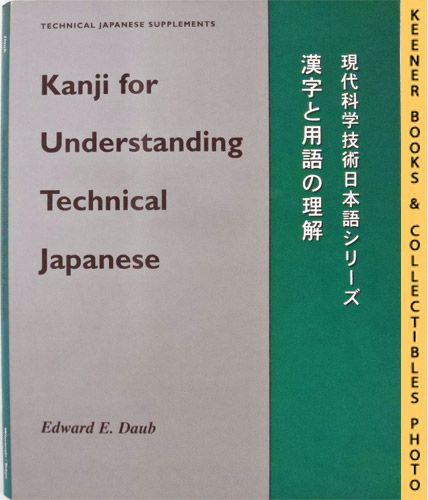 Author Name Daub, Edward E.
Title Kanji For Understanding Technical Japanese: Technical Japanese Supplements Series
Binding Hard Cover
Book Condition Fine with No Dust Jacket as issued
Edition First Edition: First Printing
Size 8.5 x 11 in.: 207 pages
Publisher University of Wisconsin Press 1995
ISBN Number 0299147045 / 9780299147044
Store ID 010680
010680: Covers and pages are clean, unmarked, bright, tightly bound and sharp cornered. Scarce, Out Of Print, Book. If interested, I have several other volumes in this Japanese Language Learning area. "Designed as a companion and study guide for the textbook Comprehending Technical Japanese, this book may also be used as a supplement to the textbook Basic Technical Japanese. It provides detailed explanations of the origin and meaning of the 500 kanji featured in CTJ, which were chosen for their frequency and significance in chemistry, physics, and biology. Each chapter is keyed to a chapter in CTJ, presenting twenty kanji, vocabulary that use those kanji, a kanji-card format for study and review, and the Japanese essay that appears at the close of each CTJ chapter, and its English translation. This volume also introduces significant scientific vocabulary that include kanji other than the 500 introduced in CTJ."
Price = 47.00 USD