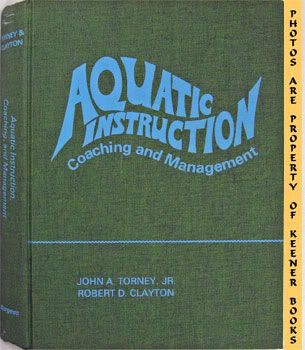 Author Name Torney, John A. / Clayton, Robert D.
Title Aquatic Instruction, Coaching, And Management
Binding Hard Cover
Book Condition Fine with no Dust Jacket
Edition Second Printing
Size 7.75 x 10.25 in.: 326 pages
Publisher Minneapolis, Minnesota Burgess Publishing Company 1971
ISBN Number 0808720317 / 9780808720317
Illustrator Illustrated by Barbara J. Sanborn
Store ID 005965
005965: LCCN# 78-120-288. Scarce, Out Of Print, Book. Boards and pages are clean, unmarked, bright, tightly bound and sharp cornered. Boards are dark green with aqua colored lettering on front and spine. Appears to be in an almost unread condition. Content Chapters include: Becoming a Competent Aquatic Worker * Foundations of Successful Aquatic Instruction * Performing and Teaching the Essential Aquatic Skills * Performing and Teaching Other Aquatic Strokes and Skills * Performing and Teaching Springboard Diving Skills * Performing and Teaching Lifesaving Skills * The Skills and Knowledges Needed by Lifeguards * Organization and Administration of Aquatic Programs * Swimming Pool Sanitation * Coaching the Swimming and Diving Team * Evaluation of Swimming Skills.
Swimming Instructors Teaching
Price = 22.50 USD